After the Norman invasion, Usk lay on the boundary of Norman Gwent and the Welsh lordship of Caerleon. Usk had a strategic position, controlling the river and valley routes so Usk Castle may have been founded by the Norman Count Roger fitz Williams. The castle was first mentioned in 1136 and in 1174 Henry II spent money on a castle in Usk which men of Earl Richard de Clare captured from the Welsh.
There may have been a wooden motte and bailey before but a stone keep was built about 1170 by Richard "Strongbow" de Clare. In 1174 The Welsh Lord Hywel ap Iorwerth captured the castle and held it for 10 years. After an attack, It was back in Norman hands by 1185.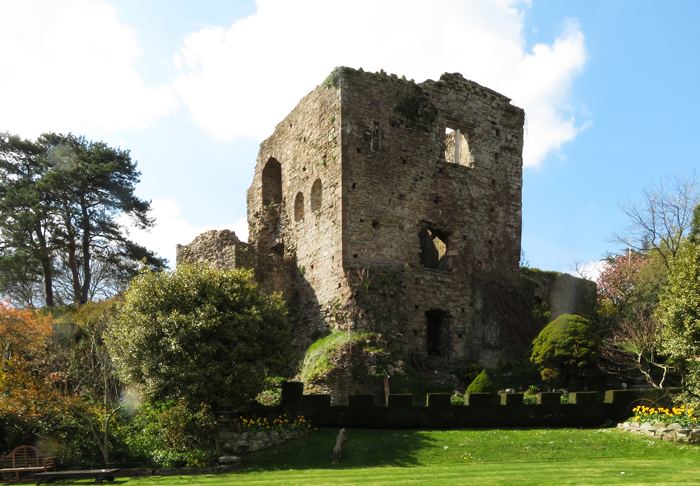 In 1189 Isabella de Clare, daughter of Strongbow, was married to the soldier William Marshal who had remained loyal to Henry II. After the death of King John in 1216 Marshal decided to re-fortify Usk castle. He turned it into a "state of the art" stone castle with a curtain wall protected by circular towers. It has many parallels to other geometrically planned castles in France, Marshal had long experience of campaigning in France.
Marshal died in 1219, his widow Isabella the following year and all of their five sons were dead, childless, by 1245. Marshal's nephew Richard inherited, followed by his son Gilbert II de Clare in 1262. Improvements were made to domestic arrangements. Gilbert's widow Joan of Acre held it till 1307 and her son, Gilbert III de Clare built a new domestic hall range aligned along the west wall around 1309 – 1319. Gilbert died at the battle of Bannockburn in 1314 and his sister Countess Matilda finished the work though the castle passed to Gilbert III's sister Elizabeth, widow of John de Burgh Earl of Ulster and her second husband Roger Damory.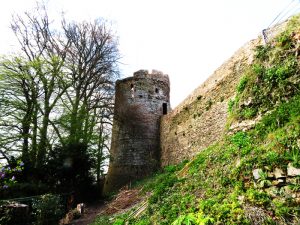 A major programme of building work began. The kitchen was improved, new gates and a drawbridge added. Roger Damory was killed in the baronial revolt of 1321 and Elizabeth and her children sent to Barking Abby near London. She was forced to give up the castle to Hugh Despenser. After Despenser's fall in 1326 ,Elizabeth regained her possessions and returned to the castle. Repairs were made and new chambers and chimneys built to accommodate a household of her rank and status. Elizabeth had a Christmas party in Usk Castle in 1327 that went on for 12 days. There were two boars' heads, venison, beef and pork for all comers in her new Great Hall. Music, dancing, poetry and entertainers. Three swans were cooked, two herons, two bitterns and many smaller birds. The kitchen used 800 eggs on Christmas Day.
Elizabeth died in 1360 and her daughter married Edmund Mortimer, Earl of March. The castle remained garrisoned and in 1405 was attacked by the forces of Owain Glyndwr. These Welsh forces were defeated but the town was devastated.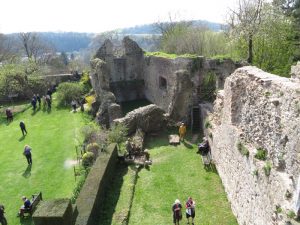 When Mortimer's heir became King Edward IV in 1461, Usk was a royal castle and was part of the dowry of Henry VIII's wives Anne Boleyn and Katherine Parr in 1543. Neither visited Usk. After the death of Katherine Parr in 1548, Usk was given to Sir William Herbert of Raglan who allowed his steward Roger Williams to remove stone and timbers from the castle to build houses in Usk. The castle became a ruin and passed through several owners but the gatehouse remained as a residence. John Humphreys and family came in 1908, the Humphreys family bought the castle in 1933 and still live in the gatehouse. The castle is open to visitors.
Source:- "Usk Castle" by  J. Knight in "Usk Castle, Priory and Town" ed. by J. Knight and A. Johnson.
Postcode: NP15 1SD
Usk Castle web site:- https://uskcastle.com/