The Old Market and Town Hall is at the end of New Market Street. The original hall was built to replace the first market in Twyn Square which, after 400 years of use, had become unusable. The building plot was given to the town in 1598 by the Earl of Pembroke.

The current building is in two sections, the southern section has an arcaded ground story and was probably built around 1774. The north section was built around 1816. Upper stories were rebuilt in 1835 including the round windows for the council chamber. The town burgesses met in this upper hall, various courts sat and functions were held.
It has been rebuilt and redesigned several times including the closure of the arcades in 1859 as they were considered too draught for stalls. The lower story became the first county police HQ with one cell. The northern extension into New Market Street became the town fire station.
Sources:
"Usk Town Trail" Usk Civic Society 2010
"Buildings of Wales, Gwent/Monmouthshire"  John Newman Penguin Books 2000.
See also :-  https://historypoints.org/index.php?page=old-town-hall-usk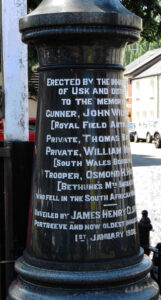 Outside the Old Town Hall is a memorial to Usk soldiers killed in the Boer War.
Details on:- https://historypoints.org/index.php?page=usk-boer-war-memorial
One of those killed was Iltyd Edwin Maitland Watkins.
https://historypoints.org/index.php?page=in-memory-of-iltyd-edwin-maitland-watkins
---