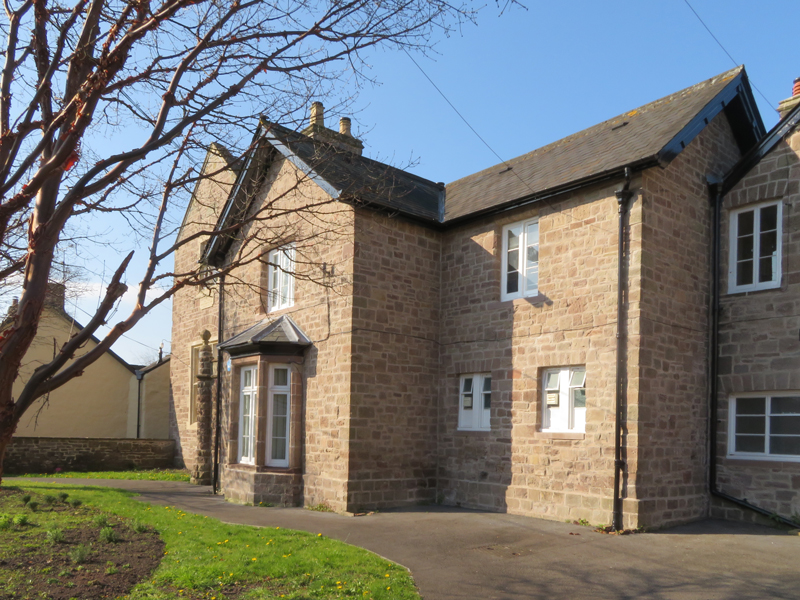 Roger Edwards was a wealthy local merchant who lived at Allt-y-Bela, near Usk (the house was recently restored by the Spitalfields Trust and is now in private ownership). Under his will of 1621, Edwards funded a free grammar school for the town of Usk and almshouses in nearby Llangeview (the latter still survive as social housing).
Teaching was originally carried on in Usk church; the schoolmaster lived at the current site in Maryport Street. In 1836 the school was moved to Maryport Street and between 1843 and 1862 was enlarged and rebuilt, with the main body of the building on two storeys operating as the school and the smaller building to the north serving as a self-contained master's house. It is now a Grade 2 listed building.
The school closed in 1956 and the building was then occupied by Monmouthshire County Council (MCC) as a community education centre. A single-storey library was constructed in the former schoolyard behind the building. In 2010 the former Usk Grammar School Foundation, a charity that had been administered by MCC, was returned to the control of local Trustees and renamed the Roger Edwards Educational Trust (REET).
In 2015 MCC gave up its lease on the site and since then REET has incurred significant costs in making good sixty years' worth of accumulated dilapidations and poor maintenance. The first stage of this programme was completed in mid-2020 and the building has since been awarded Usk Civic Society's annual award for environmental improvement.
The building, renamed Roger Edwards House, is now fully let to a range of tenants including the NHS and several local businesses and provides an income to support REET's charitable activities. The former library now provides a permanent rehearsal room for Usk Town Band.